Temporary Hours
We are open from 9am to 4pm Monday through Friday!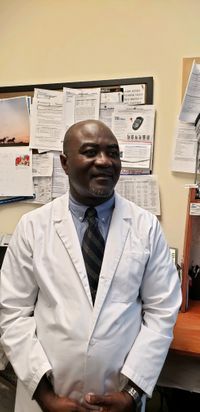 Dr. Augustine Njoku, R.Ph, MBA, PhD (c)
Serving the Houston Community
20+ Years of Experience
Expertise in Med Synch
Welcome to Greenspoint Pharmacy
Welcome to Greenspoint Pharmacy! We've been serving the communities of Greenspoint since 2004. Our pharmacist has 27 years of experience and our friendly staff will treat you like family. Here at Greenspoint Pharmacy, we are dedicated to providing our customers with services that are customized to meet their needs. Whether it's prescription medications or over the counter products, we are here to answer any and all of your questions. If you haven't taken advantage of one of our many services, call or stop by and see us today!
See If You Quality For Clinical Trials
Do you, or someone you know, have late stage 2 to early stage 4 chronic kidney disease? You could benefit from a new clinical research study. See if you qualify now!
Been coming here for years. They are individually owned. They are good & fast and know who you are by name. Highly recommend!
I have been going to this pharmacy for 10 years. The owner is always present for the most part. He is friendly, and informative on new brands of medications. They are quick filling refills, and always very courteous to the customers. I recommend anyone go to this pharmacy. They take all forms of insurance also.
Very courteous service! They are always very helpful and don't make you feel like you are being judged by your medication.
❮
❯
Subscribe to our newsletter 
Stay up to date with our pharmacy with exclusive content.